Tired of procrastination? Or Enjoying it?
In either case know that behind every successful life there is a productive routine.
I used to be a night owl. Now I do not even need an alarm for waking up at 4.
What changed. My habits. You can learn how to become a morning person here.
Back to this blogpost. 
There can be two cases that you landed up in this article.
Case 1: You secretly know you procrastinate and just want confirmation. 

Case 2: You are an expert procrastinator!
Which one is yours?
Signs You Are a Procrastinator! 
You know there are several signs of an expert procrastinator. Some are listed down below:
1 -You find yourself vacuuming when a deadline is due next.
2 -You find yourself baking cookies because it has been ages. You trap yourself into the other "productive things" for avoiding the major work beast!
3 -When nothing is left, cat video is your resort. This is the best time you find to appreciate the cat videos.
4 -Your search for happiness in which the work can not give this to resort to these cute videos.
5 -You trap yourself into thinking that I will work with positive energy thus you find happiness from these mediums . . .
as after all you think happy people are more likely to get the work done.
6 -Memes are better than work . . . of course.
You reiterate to yourself that memes are far better than the work you are procrastinating.
7  -You do finish the task but eventually
8 -You love to pat yourself on the back when you submit the work 1 minute before the deadline.
9 -Exhausting yourself hours before anything is due, you try to squish those stress-tears with a dose of caffeine.
10 -You overestimate the power of your future self.
You deliberately self talk and explain your conscious mind that your future version will be in a better position of tackling the job.
Do not worry about it now. As everything will get tackled later.
The future is always bright.
11 -You do not respond to the text messages instantly when they need to be responded.
You are too lazy to reply to them or respond to the missed calls.
And the best part is that you will easily forget about it.
You will recall it a litter later but then after a while forget it again. For how long this cycle continues? You tell!
12 -The exercise bike in your living room is collecting dust
Yes, there is that exercise bike in your living room which has only one purpose in this world . . . to collect dust.
13 -You despise those always-ahead-of-time folks.
When you see other folks who are ahead of time, you begin to despise their efficient attitude. 
Gradually that hatred turns into envy.
14 -You will not only procrastinate alone but encourage other people to join your line!
Be it for group study, teamwork, or other collective projects.
15 -You will keep scrolling through motivational videos instead of doing work until you fall asleep.
16 -Mornings are your enemy. You hate to get up on time because every time is your bedtime.
Here Are Some Related Massively-Transformative Resources Which Will Ever Need.
17 -You often give up the hard task instead of trying three times before failing.
18 -Trusting yourself is a hard nut to crack.
19 -The last time when you met the sigh of a gym was ages ago
20 -You are the person who is always in a hurry . . .
Because you have a lot on your plate to procrastinate about thus you need time for procrastination.
21 -Your life is a loop that you are predicting.
22 -If there was an award for the best messy room then you would be the winner
23 -You are not mindful of your thoughts as every small news or thing is capable of stressing you out.
24 -Resorting to meditation is what you love.
You will not mediate the entire year but when something important is due . . . You can not miss it.
Pin This Fam for later!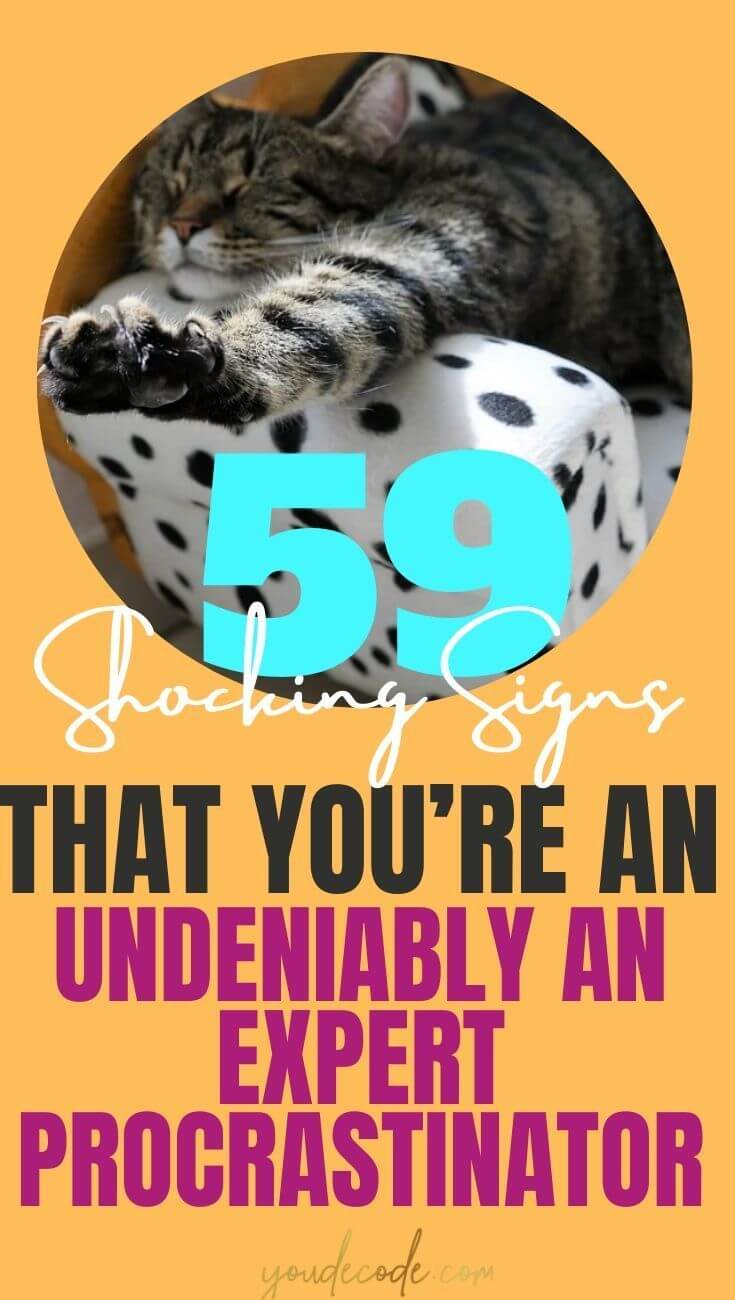 25 -Either you do not plan at all or you plan excessively.
Mostly planning excessively is what you love because it traps in you into thinking that you are working closely towards the goal.
That plan never gets implemented because your next day also starts with a plan.
26 -You love collecting quotes that lubricate your procrastination habits.
Like that of the Bill gate,
"I will always choose a lazy person to do a difficult job, because, he will find an easy way to do it" – Bill Gates
27 -When you dream about the future it makes you joyous. Sometimes dreams are not enough for your enjoyment thus you begin to daydream.
28 -You trap yourself into the idea that task is extremely easy which is certainly not the case.
29 -All excuses, boring tasks, and social media become your best friend.
30 -You seek motivation in your kitchen. Food keeps you away from work which scares you.
31  -You lose the count of days as your nights and days are all the same.
You do not get your weekends because you tend to work in them and rest on the remaining days of the week.
32 -Instead of resorting to coffee, tea, or energy drinks, you consider coke as your savior.
33 -You tend to live the full hours. You love when the needle strikes full 9:00.
This gives you an excuse to delay the work further. Instead of starting work at 8:41 you will set an alarm for 9:00!
34 -Do you still play desktop games like spiders? They are your procrastination buddies.
35 -The biggest part of your life which you go around telling is self-discipline though you plan nothing for making it true.
36 -You are that person who is great at giving advice.
Especially the ones which you don't listen to.
So are guiding people every time despite being lost.
37 -You fail to recognize the main vision of the work thus you procrastinate.
You never find the "why" strong enough.
38 -Lack of Time: You complain that you do not have time.
Despite the fact, you know that busiest doesn't necessarily mean efficiency.
39 -Always fatigued? Even without doing much, you feel tired.
You delay stuff because you feel you are tired and this tiredness strikes quite early in the day!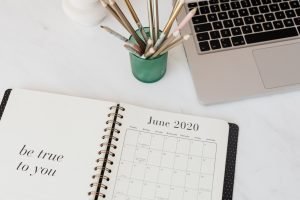 40 -You possess a fear of outcome thus you delay. Yes there is the fear of failure.
The task seems to overwhelm you. You get confused about where to start.
And a confused mind never takes action.
41  -Your alarm clock is just there to get snoozed over every time.
42 -Rescheduling is your best friend.
Because everything tends to fall on the next day and then the next day.
And you know the repetition.
43 -"Did someone mention naps? Oh I love em?"
Yes naps are the answer to all your problems.
You strongly believe in power naps and because you procrastinate, your power nap is not shorter than 2 hours!
Guess the maximum . . .
44 -The working time becomes the best time of showing gratitude as you are like, "What a beautiful day, the sky is so gorgeous . . . and the sound of these birds."
You have to hop out now as you cannot afford to waste a beautiful day.
45 -Your aim for every other day is to wake up super early
46 -You owe no passion for the work you procrastinate
47 -Infliction of the Perfectionism Syndrome.
You simply can not bear imperfection.
So instead of completing the stuff you will invest endless time-wasting on smaller tasks.
48 -You wonder how it is even possible to remain organized when you see your friends
49 -For your stress is normal, after all it is not your fault.
Stress becomes the only motivation for getting things done.
50 -You would not do your work but run errands instead.
51 -The attention span you possess is of less than a toddler.
Spend half an hour straight onto something?
A great accomplishment! Now you will go out to treat yourself.
52 -Your thinking pattern is like, "what worst can go wrong if I do not do this"
53 -When something important is due, you will find yourself using an app that you will never commonly use.
54 -You have to have your Facebook open. After watching anyone video, you have to watch similar videos like that one.
55 -You waste your time in finding out who else is procrastinating! Hahaha.
56 -Checking your phone every five minutes is a must even if there are no notifications
57 -Your twitter tweet is about you procrastinating!
58 -How many tabs open at the same time? No less than 20? right!
59 -If you are a coffee person then you will have several coffee breaks.
The last is a bonus sign :
You're probably procrastinating right now!
Before you gooo! 
I personally believe that life's too short to waste even a minute. Why not waste it mindfully?
Everyone deserves to live life to the fullest.
And most importantly because achieving whatever you want must not be hard.
Unlock the secret of how people actually get the things done.
Trace the steps already taken by the inspiring people for achieving your set goals. Remember self learning should never stop. 
No matter which point of life you are in, possess a growth mindset. Always keep growing by investing your time and money into something that will change your lifestyle for the better.
Let me tell you an interesting fact: My Local disk E is full of productivity courses. Don't worry as I took baby steps and now I treasure a wonderful library which is making me grow day by day.
I have to get a seperate harddisk for myself because I cannot afford to lose them.
Back to this blog post! 
I love connecting with the community. Which one of the signs do you meet? Or more? Drop a comment family.
Instantly Download the PDFS and boost your productivity level.