Wondering what you can do in 24 hours to organize your life?
Actually a lot. There are several practical steps that you can start taking from today.
This organization is surely important for a healthy lifestyle.
Previously, whenever my goals for the day were left done, I used to wish for more than 24 hours in a day.
It was very late that I realized that the inclusion and exclusion of small simple tasks can actually make the wish come true.
I still have 24 hours a day, but guess what changed?
My activities.
No matter how proficient or intelligent one is, but if one lacks organizational skill then one will not reach favorable and optimum outcomes.
The first step which you can take towards self-improvement is becoming mindful of time management.
I am now more mindful and you can be too.
Literally, I used to be a night owl.
Now I do not even need an alarm for waking up at 4.
What changed. I learned. I learnt from the experts.
I invested in myself for a better life.
I have taken several audio books, best e-books and courses.
I loved the investments because when I see myself now: I have just more time for everything.
I used to rant that why God has just given 24 hours in a day.
My to-do list always used to get shifted on the next day.
And most importantly I was compromising fun in my life.
If you are asking yourself that why you need to become more productive then the answer is :
Because you deserve success in your career, and health in your lovely relationships.
If you want to live more intentionally then do check this productivity bundle.(97% off)
Back to this blogpost.
So let's dive in how to manage time wisely: 
Here Are Some Related Massively-Transformative Resources Which Will Ever Need.
1# Planning your day
You need to plan but do not plan excessively.
Do not overwhelm yourself with the large endless to-do list else you will be forced to sleep with an awful mood.
Many people love to Plan your day the night before while some prefer right after waking up.
I mostly do it the night before so that when I hit the bed, my mind could get rid of the planning mode.
But the choice is completely yours.
Create Separate a List For Future and Today Tasks Maintain two different to-do list
There should be a grand list where you can dump every goal you need to accomplish
Drill in your head that you are not a superhero so PRIORITIZE
Go narrower with at least 3 milestones in today's to-do list (Plan maximum of three large tasks; these are highly prioritized tasks)
Make a not-to-do list. Spare a paper for this so you do not divert (an extremely powerful strategy which I use)
Make plan B which can be used if emergency strikes (for unexpected events)
#2 Making quick decisions
Organize your life by becoming a pro at decision making
Weight the pros/con and compare the situations
Set a deadline for making a final decision else you will swing between I don't know and I am not sure loop
Don't second guess your decision.
Own it
#3 Tracking
Track How You Are Spending Your Time (how much on your goals, family, hobbies, and entertainment)
#4 No multitasking
Don't multitask. Conquer one milestone at a time, as multitasking is your enemy.
#5 Rising Early at 5 pm
To become productive you need to wake up early in the morning
Conquer your mornings by accomplishing bigger goals in the first half
Do not check your emails or swipe your phone at least in the first half of the morning
(This can be challenging but worth a try else your priorities will get hindered)
Keep the most trivial tasks for the afternoon- this is the best utilization of such tasks
#6 Taking a break
Self-organization is incomplete if you will not take effective breaks.
Give yourself time to relax for maintaining excitement and enthusiasm
Restore the joy while working through frequent breaks.
At least give yourself 15 minutes celebration time after completing each milestone set for the day
After the 15 minutes, ride onto another task with a smile plastered on your face (yes the smile boost the excitement)
#7 Clearing your head
Clear your mind to maximize your brainpower and creativity
The best and effective way to clear your head is through journaling.
USE my Triple G technique (a bit of self-promotion! Please say I deserve this)
#8 Practice meditation
Start your day with something that you have never done before (for boosting creativity- maybe start it with a dance)
#9 Reviewing your work
When the clock strikes 12, it is time for reviewing your progress
Review so that you can adjust. Adjustment is vital for maximizing the results for the day
This strategy is also a great way to improve your task-management skill.
Analyze whether you're headed in the right direction or not
Go into a self-reflection 
#10 Merge the task together
Doubling up the similar duties and task of the day saves a ton of time and make you more organized no matter how they are listed on the priority list
Eg: Merge all the outdoor tasks together whenever you could.
Change your mindset by taking the responsibility
Drill in your head that you are responsible for every task you perform.
You actions = blame on yourself
Remember that with every action you are writing your destiny.
You are not a victim but a creator.
Develop a growth mindset by thinking that if you're failing 10 times today then that is not in essence a failure.
SHOW SOME LOVE & PIN THIS FOR LATER FAMILY!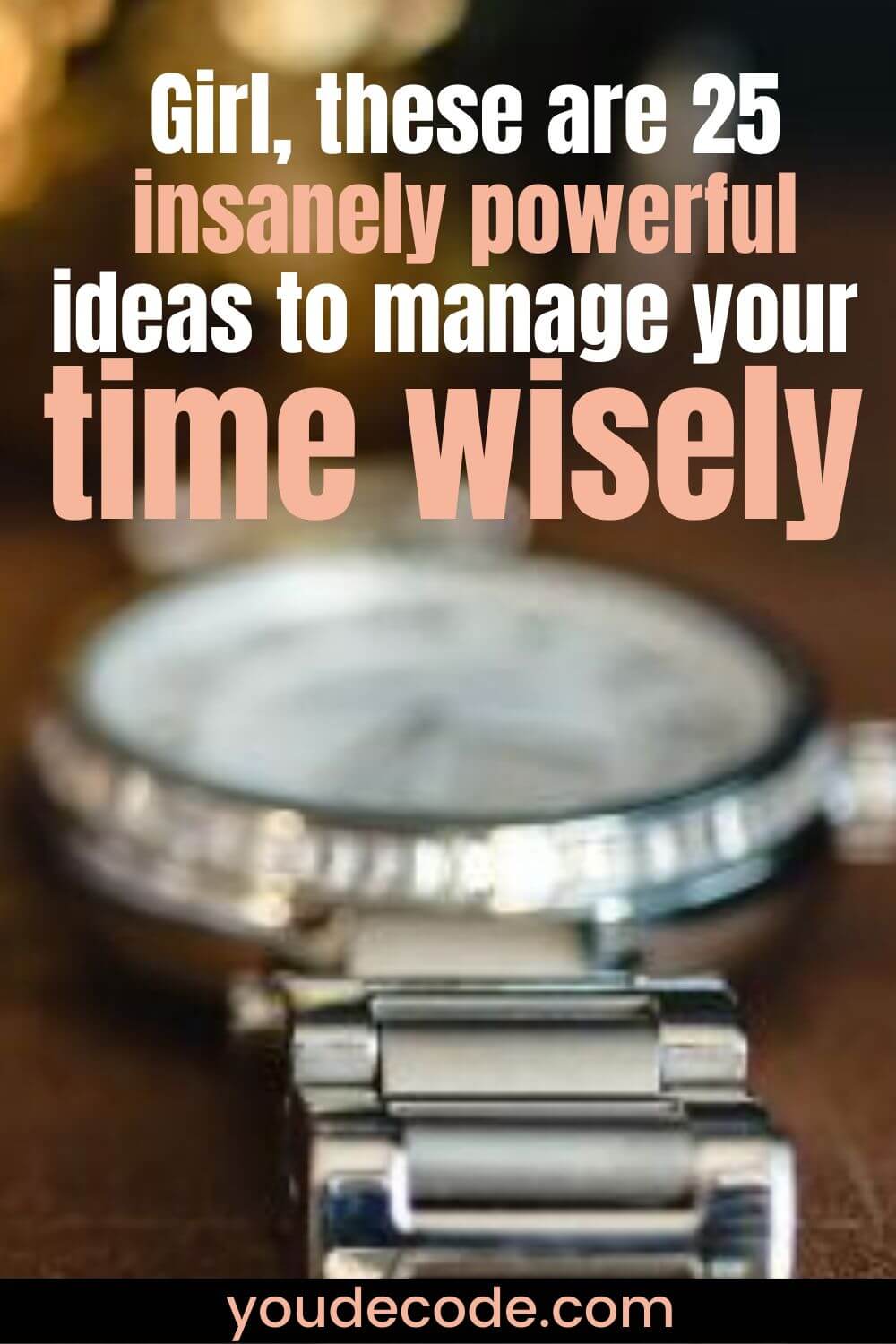 #11 Find A Hobby
Another way to remain organized and productive is by finding a hobby.
Try replacing a bit of your time spent on social media with the hobby
Try writing, reading, painting, sculpting or photography, etc (hobbies boost your creative neurons helping you maintain the overall productivity)
Hobbies can help you find peace.
They are a form of meditation that plays a huge role in organizing your overall life.
This relaxing strategy can be given 15 minutes a day at least for getting your mental health back on track.
#12 Find A Buddy
Being organized does not mean isolation. It doesn't mean a complete cut off for boosting productivity.
You will need to talk to someone and that does not have to be related to work.
The best approach for becoming organized is to talk to someone who will lend you a different perspective on things and make you think from a different lens.
Find a buddy who will help you see little things that you might unintentionally overlook in your life.
Take a moment out of stress by socializing, taking constructive advice and guidance
Your buddy can be your greatest mentor who can tell exactly what you are missing on
Ask the buddy to hold you accountable for your bigger goals (bonus motivation)
#13 Maintain a work/family Balance
Keep In Touch With Your Loved Ones.
Sometimes, you will not be able to gather your head around any particular task.
Don't just stare at it.
Rather take a minute or two out for calling your loved ones for catching up.
Family can take your stress away, boost your energy level, clear your mind, and help you get better organized.
Now head back to work (extremely powerful energy to approach the work when you get stuck)
I can not stop myself from mentioning such energy boosters memories in my life: when I used to get stuck in coding . . . I used to literally cry my heart out to my dad. I remember the last time when he talked to me was about never giving up. After getting a dose of motivation from him, my program out of nowhere began running! If you still have such motivations in life then you are lucky, avail them.
#14 Rate yourself
Rate from 1-10 how much you are actually pushing yourself.
Excessive pushing can actually work against you.
It can tire you.
If you are pushing yourself 10 on 10 then sit back, relax, go easy and enjoy the process.
#15 Ignore Your Inner Critic
What is your inner voice saying?
Be mindful of your thoughts throughout the day [80% of them should be positive]
Your belief system is fed into the subconscious mind and it tells you "you are good at nothing" then be ready for the mind to work.
Your performance throughout the day is heavily dependent on the self-talk you will have.
The inner critic can be terminate your motivation plus self-confident by delaying the tasks thought interruptions
Overpower your inner critic by presenting a counter statement for negative thought
Ask yourself thoughtful questions
Practice a few vital journaling questions for self-discovery.
Finding your larger "why" in life for staying organized throughout the day.
#16 Money VS Time
Work on tradeoffs.
(I had an economics free-elective which taught be this principle)
If you want to get more accomplished by doing less than incorporate the formula of tradeoffs.
Pay someone for small things in exchange for saving your time. (same time which you can later use for more productive things)
You do not always have to pay in a form of cash.
Give presents or cook something for someone.
#17 Learn to say "no!"
Get out of the loop of people-pleasing.
Learn to say no to unimportant things,
Compare your priorities and then do not think twice while saying no.
#18 Boost Yourself!
Exercise
Walk around
Change your working position for boosting alertness
Stretch, lift objects
#19 Take A Nap
Ah my favorites, oh actually no Sally's favorite.
Haven't met her yet? Actually better, she will annoy you!
Anyway, you can meet the self-obsessed here.
Be mindful of the duration of naps as larger time can disrupt your sleep cycle
The ideal time is between 1-2 pm for a minimum of 30 minutes.
Wake up more alert and excited (boost your day)
#20 Get organized with tech
I personally use bullet journals, spreadsheets and sticky notes extensions for organizing my workflow.
But here are some suggestions for phone apps & widgets.
Any.do Task List & To-do List (works on Android)
Calvetica (works on iPhone, iPad)
Wunderlist (works on iOS, Android, Kindle, Windows)
#21 Do Not Do Overthinking!
Be The Optimist That You Should Be.
#22 Attach an interest
For every task attach an emotion, this will help you concentrate and remain organized.
Find a reason, your larger why of engaging with a particular task.
Remember Remarkable progress depends upon genuine interest.
#23 Do Not Stress Yourself With Anyone's Problem
Stay focused on your life (the key to remaining organized throughout your life)
Do not stress over someone else's problem if one does not appreciate your concerns.
Try to help but if one absolutely refuses to take any help then simply just track your own goals.
At-times Minding your business is a great blessing.
#24 Habitual Tasks
The key to an organization is turning your everyday task into an everyday habit.
Make your tasks easier by making them a habit
Do certain tasks with consistency without breaking the routine until it comes naturally.
The habitual task will save you time and make you more organized
#25 Make a self care list
Are you neglecting yourself?
If yes, then check this Ultimate Self Care Bundle out. Treat yourself.
Because you deserve to.
Apart from this, you can do the following:
Take care of your health
Maintain a health bullet journal (extremely imp, as I tend to ignore health but the journal keep reminding me)
Maintain a bullet journal regarding daily water consumption
Maintain a bullet journal regarding vital vitamins and minerals you consume as fuel
Keep yourself accountable by a self-care journal (i have so many things on it)
Bonus Tip: Tackle Distractions
Find a quiet place

Clean your desk for only 2-minutes, remember excessive cleaning is stealing your time
(you can clean before sleeping at night, which is the last thing you will ever think to do!)
Turn of all the devices which are merely the distractions
Block websites which distract you
Use focus extension
Set a timer for each task (the key to success with the milestones)
Instantly Download the PDFS and boost your productivity level.